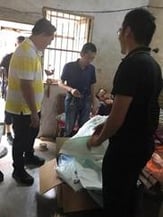 Recently, our team in Welland (Manufacturing team in China) was informed by the nearby age Committee that there are several people in their community with disabilities and who are in need of help. In order to support them, our Welland colleagues gathered products that could be donated.
On June 27th, a team consisting of Hendro, Wendy, Kevin, Sany and Xiao Ma visited the community center to donate pads, quilts and clothing protectors to distribute to those in need. The team also visited one person with disabilities to personally bring the donation. Both the Ren Yang Village Committee and the families of those in need were very appreciative of our donation and were grateful for our help.
MIP is committed to helping the communities in which we operate, as well as others around the world. Building stronger communities and partnerships will shape the future of healthcare worldwide.