With a growing need for effective, affordable and quality healthcare textile products around the world, MIP Inc. is eager and delighted to offer it's expertise and solutions in new geographic markets, such as India.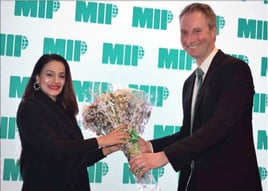 Last year, we began our journey in India by hosting a star-studded event that brought together influential members of the healthcare community, policy makers and even bollywood star Ameesha Patel.
With a focus on educating and supporting the healthcare sector on the benefits of efficient linen handling and delivery solutions, such as our RLS system, we are extremely excited to share our products & expertise.
Here is what our President and CEO, Tor Lund, had to say about MIP in India:
Regarding MIP's growth.
"This is an exciting time for MIP as the brand has experienced strong growth in revenue and market share across the globe. Having make our presence felt it in Canada, US, UK and Europe, we felt this was an opportune time to enter the growing Indian healthcare sector. With a proud history of supplying quality products and providing outstanding service we have a long-term strategy for India. We wish our employees and stake-holders in India the very best."
On what motivated MIP to enter the Indian market now.
"The Indian health care market is growing rapidly and increasingly becoming more sophisticated and we have had the fortune of teaming up with a local team that has the passion, dedication, knowledge as well as shared values with the MIP culture. In addition, there seems to be an increasing need for high quality textile products that support the world class medical infrastructure and expertise that currently exists."
On what the brand hopes to achieve in its first year of operations in India.
"We hope to have our products used in 20 private as well as public hospitals and that these will serve as showcases and proof of concept for further growth in 2021 and beyond."
Trials are currently under way in Artemis Hospital
, in Gurgaon, as well as in Orana Healthcare, in Gurgaon and Reliance Hospital, Mumbai.
For more information or to reach our MIP Asia representatives:
You can also follow our journey via our MIP Asia social media channels: